Career scopes After Digital Marketing
Internal auditors are in high demand at public and private companies, nonprofit organizations and government agencies at all levels.
Digital Presence
Global Digital AD spend
will reach
$389 billion
in 2021
79,000 searches
per second on Google
Annual Salary
| | |
| --- | --- |
| Position | Avg Salary |
| Digital Marketing Manager | ₹545,309 |
| Digital Marketing Specialist | ₹348,658 |
| Marketing Manager | ₹688,139 |
| Senior Marketing Manager | ₹1,364,004 |
| Product Marketing Manager | ₹1,089,007 |
| Digital Strategist | ₹982,635 |
Top Hiring Companies









Why learn Digital Marketing?
Digital Marketing is the latest and most booming industry around the world. With billions of people online from around every corner of the world has made digital media, a must have communication and marketing medium. Almost every business small, medium or even large enterprises are investing a significant amount of their marketing budget in advertising digitally. Thus creating a huge demand of skilled digital marketers.

Digital Marketing opens up a lot of job opportunities, there are more than 50,000 job openings on various job portals. Every organization is including Digital Marketing in their marketing strategy thus creating a huge scope for Digital Marketing Experts.

Become a freelance Digital Marketer and earn an awesome amount of money. Yes after learning Digital Marketing skills you can start taking up digital marketing projects from any small, medium or large scale enterprises and earn by promoting their products.

In the coming future, learning digital marketing skills will be compulsory for marketing student. So starting now will give you an edge over others. You can learn digital marketing course along with any regular degree program, and become industry ready while you graduate.
Digital Marketing Course in India
In our Digital Marketing course, we tend to cover almost all channels and aspects of Digital Marketing. We start with basic introduction to channels of digital marketing and then move to advanced traffic generation tools, lead generation campaigns and lot more. Receive in-depth knowledge of the most advanced conversion optimization, email marketing, video marketing and mobile marketing techniques in our Digital Marketing course.
Digital Marketing Course Details
Who should learn Digital Marketing?
Aspiring Students & Fresh Graduates
Web Marketers & Ad Agencies Professionals
Business Owners & Entrepreneurs
Sales & marketing Professionals from any field
Job positions after Digital Marketing Certification
Digital Marketing Manager
Digital Marketing Executive
SEO Manager
Content Manager
Digital Marketing Specialist
SEO Expert
Social Media Manager
Campaign Manager
Team Leader
Why EduDelphi?
Certified & Professional Trainers
Our faculties are qualified & industry experts with significant experience in their domain.
Live Instructor Led Training
We conduct live classes through GoToMeeting, Zoom and other live meeting software.
Cloud e-learning portal
Get live class notifications, view class recordings, or practice questions all in one access.
Flexible Batch Timings
All our batch schedules are designed to support work while you study principle.
Placement Assistance
We guide you to benefit from the newly acquired global professional certification.
Reputed Study Materials
We provide internationally reputed study materials with our customized success slides.
Exam Pass Guarantee
We guarantee you'll pass your exam on the first attempt. Learn more.
How to get Certified in Digital Marketing?
01
Learn Digital Marketing Skills
Register for our course and learn all the tools & techniques of Digital Marketing.
02
Choose your niche
Choose which area in Digital Marketing you would like to specialize in like Analytics, Paid Advertising, Content Marketing etc.
03
Appear for the Exams
Our consultant will help you to choose the industry specialized certification and register for the examination.
04
Get Certified!
Pass the exams to become an Certified Digital Marketing Expert.
Digital Marketing Course Trainer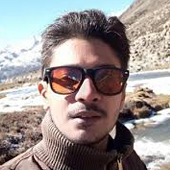 Pankaj Sarrof
Digital Marketing Strategist & Trainer
Pankaj is the Digital Brain behind Delphi! He has extensive knowledge of Digital Marketing, Social Media landscapes, networks, tool sets and furthermore is committed to staying updated with all digital marketing developments and best practices. He is Masters in Computer Applications, MCA(H) and have several certification courses from OMCP, Hubspot and Google etc. Pankaj is a versatile scholar and Trainer, possessing a hard-core Digital Marketing experience of more than 7 Years and has provided Consultancy to 100s of Businesses.
Digital Marketing Course Highlights
Self Paced
ELearning at your own pace
30+ Hours of Recorded Videos
100+ Training Slides
Practice Questions
365 Days of Access to eLearning Portal
24*7 Support
Live Online
Live Instructor Led Online Classes
30+ Hours of Recorded Videos
100+ Training Slides
Practice Questions
365 Days of Access to eLearning Portal
24*7 Support
In-house Live
Corporate or One to One Training
30+ Hours of Recorded Videos
100+ Training Slides
Practice Questions
365 Days of Access to eLearning Portal
24*7 Support
Digital Marketing Course FAQs
Frequently asked questions Digital Marketing Certification in India
Student Reviews

Pritesh Dattani
Good diverse classmates, some experienced, some learning. I liked combination of practical notes and explanation of "why something is important" not how to do it.

Jafar Ansari
Great experience in learning Delphi very professional staff, detailed training, and great infrastructure.

Mudasser Sidiqui
If you want to know the whole process of financial accounting and controlling this course is very uesful.

Pankaj Bhagchandani
I really enjoyed learning Delphi Training due to the excellent training staff and management here, who are very knowledgeable and professional in .

Hussam Aijaz
I would give such a flexible training 5 out of 5 and would recommend to take courses with Delphi Star in near future. I am well satisfied with Delphi and looking forward to take more courses

Biju Jhonson
Simple and logical explanations helped me in understanding the concepts and applying it in answering the exam questions. The Trainers have excellent practical knowledge