If you're a project manager trying to advance your career, you've undoubtedly heard these three letters mentioned in every certification discussion you've had. But if you have no idea what PMP stands for or whether the certification is really worthwhile.
Let's look into the specifics so you understand what PMP Certification is, why PMP certification is important, and how to obtain PMP Certification?
What is PMP Certification?
The Project Management Professional (PMP) certification is a globally recognized professional credential in the field of project management. It is a worldwide recognized professional project management certification. It is awarded by the Project Management Institute (PMI) and shows a professional's knowledge and skill in project management.
Obtaining the PMP certification can significantly enhance a project manager's career prospects. It is often a prerequisite or a highly desirable qualification for many job opportunities in project management. Many organizations, especially in sectors like IT, construction, healthcare, and finance, prefer or require PMP certification when hiring for project management positions. It can make you a more attractive candidate and help you stand out in a competitive job market.
Why PMP Certification is Important?
PMP certification is important because it validates an individual's knowledge and skills in project management. It demonstrates their ability to effectively manage projects, meet deadlines, and deliver successful outcomes. Employers often prefer candidates with PMP certification as it assures them of the candidate's expertise and commitment to professional development in project management. Additionally, PMP certification equips individuals with a common language and framework for project management, allowing for better collaboration and communication with team members and stakeholders.



PMP is the best project management certification available in the industry today. With its rigorous exam and comprehensive curriculum, PMP certification demonstrates a professional's expertise in project management methodologies and best practices. It can provide you benefits such as increased job opportunities, higher salary potential, and enhanced credibility in the field. It also allows professionals to network with other project management experts and stay updated on the latest industry trends and advancements. Delphi offers the best in-classroom and online training courses for individuals seeking the PMP Course in UAE.
Our experienced instructors guide students through the entire project management process, from initiation to closure, ensuring they have a solid understanding of key concepts and techniques. Additionally, Delphi offers a variety of study materials and practice exams to help students prepare for the rigorous PMP exam. By choosing Delphi for your PMP certification training, you can be confident in receiving a high-quality education that will set you apart in the competitive project management industry.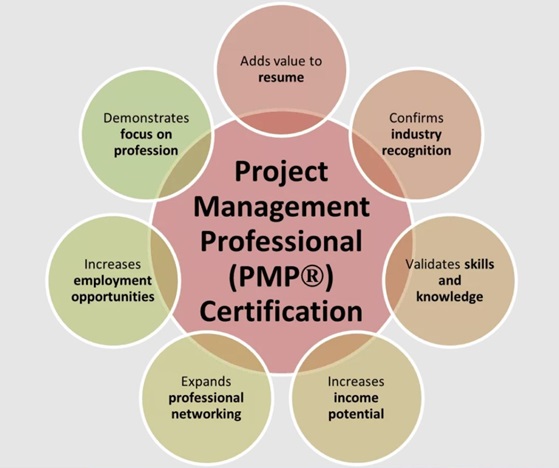 How to Get PMP Certification?
Here's how to get PMP certified:
1.Check Eligibility
To be eligible for the PMP certification, you need to meet certain educational and professional experience criteria.
A four-year degree (bachelor's or equivalent) and a minimum of three years (36 months) of project management experience, with at least 4,500 hours leading and directing projects, plus 35 hours of project management education.

OR

A secondary degree (high school diploma, associate's degree, or equivalent) and a minimum of five years (60 months) of project management experience, with at least 7,500 hours leading and directing projects, plus 35 hours of project management education.
2. Apply Online to take the PMP Exam
Once you meet the eligibility criteria, you can apply for the PMP exam on the PMI website. You'll need to create an account and fill out the application form, providing details about your education and project management experience.
3. Take PMP Course Training
To be qualified for the PMP certification, you must have 35 hours of project management instruction. Delphi provides PMP Exam prep course that include the required 35 hours of project management education. It covers all of the PMP certification exam's essential subjects and concepts, ensuring that you are well-prepared to pass the exam and become a certified project management expert.
4. Schedule your PMP Exam
When your application is approved, PMI will contact you to schedule your test. You will have one year to take the exam, with the option of taking it online or in person.
5. Pass your PMP Exam
It's finally time to put all of your hard work to the test! Don't worry if you don't pass the first time. To get your certification, you can take the PMP test up to three times in a single year.
The PMP exam consists of 180 multiple-choice questions and is computer-based.
You have four hours to complete the exam.
The exam assesses your knowledge of project management processes, tools, and techniques.
You must score above a passing grade to earn the PMP certification.
6. Continue Learning to Maintain your PMP Certification
Getting your PMP certification isn't a set-it-and-forget-it process. You'll need to earn 60 PDUs every 3 years to keep your PMP certification in good standing.
PMP Certification Jobs
Earning the Project Management Professional (PMP) certification can open up a wide range of job opportunities in various industries and sectors. PMP-certified professionals are in demand because they have demonstrated their expertise in project management, making them valuable assets to organizations. Here are some common job roles and industries where PMP certification is highly sought after:
Project Manager
Program Manager
Portfolio Manager
Agile Project Manager
IT Project Manager
Construction Project Manager
These are just a few examples of job roles and industries where PMP certification is valuable. The certification provides a strong foundation in project management principles and practices, making it applicable across a wide range of sectors and career paths.
Conclusion
Overall, the PMP certification is a valuable credential for project managers seeking to demonstrate their knowledge, advance their careers, and contribute to the successful completion of projects in a variety of industries and sectors. It is a valuable credential for anyone trying to distinguish themselves as qualified and informed project management experts.
Contact us today to learn more about how the PMP certification can benefit your career and help you stand out in a competitive job market. Our team of experts is ready to guide you through the certification process and provide you with the necessary resources to succeed.
Get free webinar invitations and offers for our certification courses: